Source: www.moviespad.com
Order, Decency, Indian values- why is it that such words are brought up and fought for whenever the subject of contending for control over the Internet is raised? Does self-censorship necessarily mean no censorship? Does it suggest a shift away from order to chaos?
Loosely defined, censorship in general refers to the suppression of objectionable, harmful or sensitive speech. In actuality, think of it as a wall with barbed wires on the top surrounding a tower protecting modern democratic rights. The wall prevents the expansion of democratic rights, and causes suppression. The wall can also be broken and re-built either further away or nearer the tower. The question here is- how far away from the tower should the wall be built? Before we begin pondering on that, a more immediate and significant question would be- Should there be a wall?
That question can be differently answered for different forms of media. The presence of laws for more traditional media like print or broadcast at least makes sense in terms of implementation, as national borders are physically well-defined. The Internet, on the other hand, is a massive space that is neither owned by any individual and nor is it divided. If the Internet is not ruled by anyone, why should it be regulated?
Source: www.davidicke.com
Although 'regulation' comes across as a fair approach to managing the Internet, especially when it comes to concerns regarding it being a breeding ground for terrorists, pedophiles, religious fanatics and other dangerous people, it is very difficult to regulate the Internet. Since Internet is a tool that is used by all, who will regulate the Internet? Also, who will regulate the regulator?
Even if some regulatory body was set up, it won't be an easy game to decide which restrictions are reasonable. For example, the amendment in the Information Technology Act (2009) forbids the publishing of 'sexually explicit' content. Living in a world that is constantly shrinking and where the merging of cultures and ideas is taking place, the definitions of terms like 'sexually explicit' that are dependent on the ever-evolving culture of a society keep changing. Further, the urban-rural bias ensures that what might be 'sexually explicit' for a person living in rural India might not necessarily be 'sexually explicit' for an urban Indian.
Where do we draw a line on the sexually explicit then, and more importantly, why? Wide and easy exposure to western media in our country suggests an increasing openness to sexual activities or thoughts, which is reflected in the art and media of India. Banning of the publishing of 'sexually explicit' content has a direct impact on art and science, but also has an indirect impact on our freedom of speech. So while an Indian Internet user can freely access porn websites, he can't access a cartoon porn website like SavitaBhabhi.com, the rationale behind which hardly makes sense![i]
A major concern regarding government's role in regulating the Internet is that of this censorship being a cover for covering political attacks. In early 2011, the government sent 358 removal requests on the grounds of objectionable and disparaging content. Out of the 358, 255 were simply government criticisms.

[ii]

India emerged as and continues to be the world's largest democracy, and if we suppress any emergence of criticism of our ruling bodies, how are we democratic, and what example do we represent to the other democratic nations?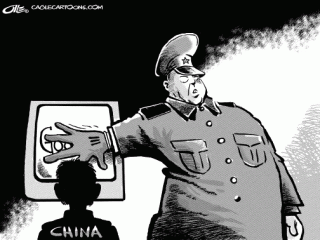 Source: www.chinalawandpolicy.com
An authoritarian country like China strictly monitors Internet content on a daily basis and removes any content that is 'politically incorrect' or subversive of ideology. With increasing cases of objections against Internet content, India is moving towards a policy that is more reflective of obedience to the 'higher powers' at the expense of personal freedom, and there are liberal objections to that.
Freedom of expression allows people to vent, giving them a platform to discuss or complain about political, economic or social decisions that they might not agree with. Curbing the freedom to vent can lead to political outrage and can transform the venting into a reaction that might be physical and harmful in nature, for example the Sharad Pawar slap.
While it might be argued that web networks are increasingly become a threat to society, it is also true that these web networks empower people. India is not new to the system of democracy, but that does not mean that democracy is well-established. Diversity of opinion is still not completely tolerated, and an online platform provides a free platform to express opinions that might not be expressed otherwise. It becomes necessary in such a scenario to have the Internet free of regulation to enable a country's growth!
So what is the solution here? You might ask, so what if it is difficult to monitor the Internet pages? Isn't law and order about punishing a crime and not eradicating it? You might say that being able to remove a certain amount of defamatory content is better than not removing any content. However, it is better to have a system, in my opinion that is regulated by self-censorship than to have a system where the basis of removing content is in itself disputable.
Source: www.blog.tuvpn.com
To say that self-censorship is no censorship is incorrect. People self-censor all the time. It is a pre-requisite to any dialogue amongst people. The need for self-censorship becomes stronger in a country where the political elections aren't exactly fair to begin within the first place. The first traces of Internet censorship can be traced back to the year 1999 when VSNL blocked the Pakistani newspaper Dawn and since then the cases of censorship have only been increasing. In December 2011, communications minister Kapil Sibal raised questions over the defamation of political leaders on the Internet.

[iii]

But in a country that has several criminal cases against many of the political leaders pending, can a bit of political satire really be questioned? Internet censorship, if allowed, will only damage India's democracy.